Pre-requisites
Reiki I, Reiki II, Reiki Master
If you have been a Reiki Master for at least 6 months and you know how to use and draw the Reiki II and Reiki Master symbols from memory then you qualify for the Holy Fire III Karuna Reiki training! All lineages honored from other Reiki schools and teachers.
Fees
$800
Schedule
TBD 2022

Refund & Cancellation Policy
If class is cancelled due to inclement weather, it will be rescheduled.
If you need to withdraw, please give, at least 5 days notice and we will advertise to fill your spot. If it fills, we will refund your class fee, less a $50.00 service fee. If it does not fill, your fee can be used for future classes, workshops, and events within 1 year of purchase. If manuals have already been mailed for the on line class, the service fee is $75.00.
Replacement certificates, whether from loss, or rescheduling etc. are $7.50
Location
Classes are held at Expanding Heart Center,
208 W. Patrick St. Frederick, MD 21701
View Map
What's Included
Information and techniques in the comprehensive ICRT manual, Holy Fire lll Karuna Reiki Master Training manual, are covered including:
Day 1
Guided Meditation for Heart Healing (Gentle and Powerful) called "Holy Love Experience" .
Learn what Holy Fire IIl Karuna Reiki is, about its origin, and it's connection to Spiritual Beings.
Holy Fire lll works with concepts of the Authentic Self, the Cutrually Created Self and the Dormant Self.
Healing in the River of Life experience
Learn 4 of 8 Karuna Ill symbols, how to draw and activate their energies, and how to give a treatment using them.
Learn how to draw and use the Holy Fire Symbol.
Receive the 1st of 4 Holy Fire IIl Karuna Reiki Ignitions.
Day 2
Guided Meditation for Spiritual Nourishment.
Receive the Holy Fire IIl Karuna Reiki Master  Ignition.
Learn additional 4 Karuna lll symbols, how to draw and activate.
2nd & 3rd ignitions
Practice giving self treatments and treatments to others using the symbols
Holy Fire lll meditation
Day 3
Receive 4th Holy Fire IIl Karuna IIl Master Ignition.
Practice giving self treatments with all Holy Fire Karuna Symbols.
Chanting and toning with Karuna symbols
Practice giving Holy Fire Karuna Reiki treatments to others.
Discussion on becoming a teacher of Holy Fire Karuna Reiki.
Go over outlines for all classes
Cover the business of teaching Reiki
Holy Fire III Karuna is Advanced Healing Energy for Our Evolving World!
If you have been a Usui Reiki Master for at least 6 months and you know how to use and draw the Reiki II and Reiki Master symbols from memory then you qualify for the Holy Fire III Karuna Reiki training! All lineages honored from other Reiki schools and teachers.
This class is the next step after Reiki Master and is both a practitioner and a Master class. Those who take the class will be able to use the 8 Karuna symbols in their Reiki sessions AND teach all levels of Holy Fire III Karuna Reiki. It is complete with eight practitioner symbols, one master symbol, four ignitions and two meditations that are guided by the Holy Fire.
Holy Fire III Upgrade
Anyone who is a Reiki Master from any lineage is qualified for this class. In this class you will receive the Holy Fire III upgrade. This upgrade will allow you to give Placements which are Ignition-like experiences for Reiki I & II and ART instead of attunements. This makes teaching these levels of Reiki much easier. In addition, it makes teaching the ART/Master and this class easier too as you will not be demonstrating and practicing the attunements in class. The Placement system provides a more effective level of Reiki for the student and also empowers the symbols with more effective healing energy. The Usui energy is no longer part of the system, but has been replaced with Holy Fire energy. However, all four of the Usui symbols are still used. The meditations are POWERFUL!
This 3 day workshop will rock your world and could possibly change your life!
A brief description of the 1st 4 Holy Fire III/Karuna symbols are:
Prepares the client for deep healing and is useful with past life issues. It helps release karma and deeply seated issues on the cellular level.
Heals deeply and can be used to breakup the negative patterns we unconsciously use to insulate ourselves from the truth, thus shattering delusion and denial. It heals the shadow self.
Fills the person with love and restores balance.
Completes the treatment by bringing the client back into the body and grounding.
Remaining 4 Holy Fire IIl/Karuna symbols are:

This symbol helps you access wisdom through your higher self and anchor it into your physical body.
This symbol assists you to put your goals, visions and dreams into action!
This symbol relates to your personal Divine Power and can assist you to keep your energy clear from thought forms projected by others, and also from your own fears.
Sanskrit for peace. Shanti can assist you in trusting that all situations in life can offer positive experiences through growth and therefore assist you in finding peace in the lessons learned from your challenges.
Earn a Certificate of Completion for Karuna Reiki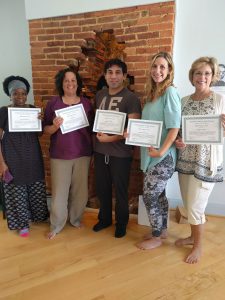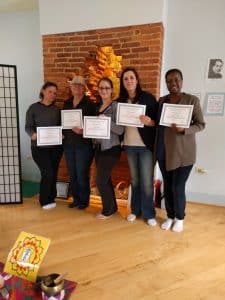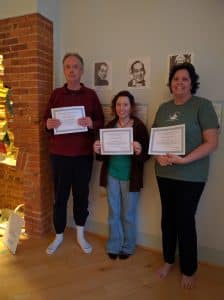 I have and will continue to recommend MDCRT to anyone who is interested in Reiki! I've gone through all three levels of training with Kandi and her staff and it has been life changing. They are warm, caring, and the classes are comprehensive, you will learn so much about Reiki and yourself!
Beth Sherwood
13:00 25 Feb 18
MDCRT is the ideal place to learn Reiki. Kandi Austin is such a wonderful, gentle teacher and person. She has become my mentor and I highly recommend MDCRT if you are looking for a training center to provide you with a clear understanding of Reiki in a calm and loving environment.
Sally McAleer
19:47 23 Feb 18
MDCRT and Kandi Austin have had a profound impact on my life. I attended both Reiki classes level I and II with the intent of having my own Reiki practice. I had no idea how life changing Reiki would be. It has brought about healing I never knew I needed. Kandi has been an integral part of my journey, offering her skills as a mentor and a friend. My husband has also taken the level I course and has greatly enjoyed all that has come from it. I cannot recommend MDCRT highly enough.
April Clancy
02:00 24 Feb 18
I was excited when the Maryland Center for Reiki Training (MdCRT) opened in 2015. As a Usui and Karuna Master Teacher, I kept up with the continuing evolvement and expansion of Reiki. Knowing the new level of Usui Holy Fire Reiki had been developed, I took the Usui Holy Fire Master Class at MdCRT. The teachers were prepared, competent and honoring of each student. When it was time to receive the new level of energy, I felt the sensation of the Holy Fire slowly permeate my body from head to toe with loving, gentle, empowering energy. I knew my healing abilities had been raised to a new level of effectiveness and, with daily use, would continue to grow. Currently I am a Usui and Karuna Holy Fire ll Master Practitioner and Teacher and CMRM Certified Medical Reiki Master. I occasionally teach Reiki classes for MdCRT having gone through their Mentor Program. What a journey! Classes for children have been added. Come see for yourself and learn how to bring healing to yourself, family, friends, and the planet!Rev. Linda C. Irvine
Linda Irvine
21:09 05 Mar 18
My wife and I took the Reiki Level 1 course experiencing and incredible amount of supportive information, practice, and transformation. The education, meditations, and hands-on-training built a strong foundation for self-healing, confidence in practice and building healing energy, and provided a pathway for growth and practice leading to the healing of self and others. I am very much looking forward to Reiki II! I highly recommend MDCRT!!
Thomas Colligan
12:46 13 Mar 19
After searching for Reiki classes in the DC area, I chose MDCRT because of the plentiful course dates, clear communications about the topics covered, and the easy registration process. I am so glad I did! I love this center. The classes were exceptional and I highly recommend them to anyone interested in learning about Reiki.
I have taken Reiki twice before in my life. I am grateful to say I have found a studio that teaches comprehensively and supports your learning experience with a great network in the commmunity. Happy to have found a Reiki home. Thanks so much.
LINDA MEYER
20:28 06 Feb 19
I took Reiki Master training here. It was a transformative weekend!✨ Kandi's warm and caring energy really shines through in the classes and in the atmosphere she creates among the students.? I also appreciated the different guest teachers Kandi brought in for training. It was a truly valuable experience, and weeks later I am still seeing benefits in my Life.✨
Tracy Delia
20:07 01 Apr 19
Obtaining my Reiki Level zone Certification was an absolutely amazing experience. Kandi and Beth were so wonderful. The students, teachers and whole experience has been life changing!! Highly recommend- can't wait for my level 2 certification class!!
Sondra Kehne
23:16 02 Apr 18
Life isn't worth living unless you embrace all possibilities of growth, development and healing. What a blessing it was to be led to the MdCRT. I was blessed to be a student for the Reiki I & II courses. The background history, meditations and hands on training not only allowed for me to build a solid foundation in Reiki, but gave me the confidence and additional push I needed to remove self-doubt and start my healing. Kandi was an exceptional teacher. She was patient and pleasant. I look forward to working with her in the future and studying with her for my Master's.In terms of accessibility, the days and times offered were good. I live in central and still chose to make the drive for two days. Trust me, it's worth it. Parking availability was easy.Finally, the students in my class were equally as much a blessing to me as Kandi (instructor). It was nice to receive feedback from my classmates and really grow from each others experiences.I highly recommend MdCRT!
Chanel Hilliard
12:26 20 May 19
Before deciding to attend Reiki training at MDCRT, I researched a variety of options. After meeting Kandi and entering the room where training was to take place, I knew I had made the right decision. Kandi is welcoming and thoughtful in her approach to teaching and MDCRT is a wonderful place to learn!
Terry roder
21:50 28 May 19
I learned so much during the Reiki Master Level III! The experience, the environment, our mentor/teacher really allowed us to learn I. A safe and sacred space. If I had of know. About this place, I would have taken Reiki I and II with Kandi! This is a beautiful space and plan to return for other classes too!
Romula the Romzilla
01:27 03 Jun 19
Kandi is the epitome of grace and compassion and her passion for Reiki is undeniable. Learning all three levels of Reiki under Kandi has been a beautiful and profound experience of growth and understanding. I highly recommend her training programs and healing services to anyone in need of healing and/or wishing to step into being of service to others.
Anna Carter
18:26 24 Jan 20
Amazing space!! Kandi is the best. I learned so much during my Reiki II training from her. Can not wait to expand my knowledge more!
Samantha Bilodeau
18:17 25 Feb 20
Thanks Kandi and Terry, the class instructions and knowledge shared were amazing. My Reiki II Certification class experience on my birthday was everything. I'm so looking forward too becoming a Master instructor because of it! Peace
Roxanne Felder
17:58 22 Apr 20
Had a wonderful (virtual) class today and highly recommend for those interested in learning and becoming attuned to Reiki ♡
Heather Jovenal
20:09 15 Aug 20
This was truly a very special and unique experience. Learning from one of the best Reiki Masters (MDCRT) in MD. The facility was clean, spacious, bright and Retained a positive energy in the room. parking was easy to find in the back.I very much look forward to returning and continuing my Reiki practice.
MAYNOLD MORENO
00:11 26 Mar 18
Oh my goodness, what a wonderful experience! I have taken my Reiki I and Reiki II classes online with Terry, and they both were amazing on every level. Both Terry and Kandi are wonderful teachers and provide a lot of support during your spiritual journey. Very thankful for Maryland Center for Reiki Training! Thank you Thank you Thank you!
Cha Leclerc
21:05 26 Jan 21
A truly wonderful and unforgettable experience. Kandi simply radiates the joy, inner peace, and knowledge you expect from a Reiki Master. I not only learned so much during the Reiki II Training, I felt a true bond was created that I can reach out for advice and guidance as I continue in my Reiki and Energy Healing journey. The book and learning material provided was simply outstanding. Highly Recommend the MDCRT for all your REIKI Training.
Such a wonderful center. learned so much from Terry during my Reiki Level I training. I can't wait to return and learn more thank you for sincere assistance.
Brendon Joyner-EL
16:22 02 Aug 21
Terry was a wonderful teacher! She did a great job at clearly explaining the principles of reiki and practices in a way that makes it easy to ground the knowledge and experiences into every day life.
Davion Spann
20:46 13 Jan 22
I feel very fortunate that I elected to attend the Maryland Center for Reiki Training and that Terry has taught all four of my classes. She covers the material well while encouraging productive interaction among the students and herself. I look forward to continuing my education at MDCT, and I hope I'm able to take more classes with Terry.
Beth Brown
17:03 30 Jan 22
I am so grateful to Kandi Austen at the MDCRT - I have received the most wonderful and comprehensive training for Reiki I& II. It has been a truly life changing and enriching experience. I look forward to continuing my journey with Kandi and the team at MDCRT.My mother and I have also received Reiki from Kandi…. Just wow. My mom had a life changing experience with her, so much healing and love.
Lexy Ridgway
12:22 13 May 22
What a wonderful place and so thankful to Kandi and her team for sharing their knowledge of Reiki. I've completed Reiki I & II training and registered for animal reiki I training. Blessed to have found this center, my Reiki home!
Heather Parker
15:14 28 Dec 22
Classes are held at Expanding Heart Center, 208 W. Patrick St. Frederick, MD 21701
Expanding Heart Center
208 W Patrick St, Frederick, MD 21701, USA
ART
Advanced Reiki Training
Reiki For Children
Ages 9-12
Karuna Reiki
Receive Symbols
Reiki Master
Learn to Teach
Reiki For Teens
Ages 13 to 17